Summer 2014 season review: Neptunes hit jackpot with landmark success
Neptunes' lofty targets have reached their acme in 2014 with a landmark five league titles in a row, an unprecedented achievement in Maltese waterpolo which will be recounted with pride in future years.
This was a feat of gargantuan proportions akin to those of the now legendary runner Usain Bolt whose arrow-flinging posture immediately after winning a sprint race is a unique trademark of this great sprinter. His aim is to reach the sky. Likewise Neptunes' with their unquencing desire for success. 
Their epic fifth league title in a row, their 23rd in their history, was adorned with yet another'double' when they won the Cup in mid-August as well as the President's Cup to make a clean sweep of the summer honours.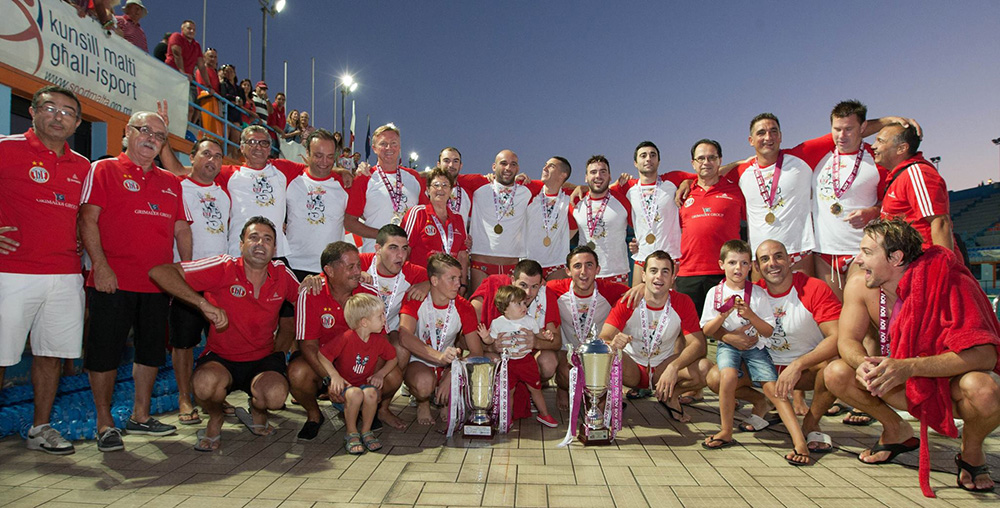 It was Neptunes' seventh championship title and fourth knock-out win, including three doubles in the ninth decade since the club was founded in 1929.
Our team, now having the Grimaldi Group as their new sponsors has achieved the distiction of having the first ever coach to lead his side to five consecutive championships as well as having two brothers, Stevie and Jordan Camilleri to achieve this unique feat.
In all a sextet that played sweet music which soothed the ears of their avid supporters…!
This unprecedented landmark was also reached by three other players, captain Niki Lanzon, Michele Stellini and the great Hungarian, Tamas Molnar, a triple Olympic gold medallist who has now called it a day after an illustrious career. He conferred upon Neptunes the distinction of finishing his  playing days with them….!
Neptunes' superiority over their rivals in 2014 was not so much for a long bench as for the versatility and adaptability of their units as their opponents went the extra mile to break their stranglehold on the league title as well as their unbeaten record.
However, both our avowed targets were reached, with much to spare, with captain Lanzon being the nerve-centre of a team that maintained high levels of variety, movement and physical qualities unmatched by our opponents
Free-scoring Stevie Camilleri was an awesome figure in the eyes of opposing rearguards. For the fourth successive year he finished at the top of the scorers' list, with Antonio Petkovic of Sliema, both scoring 72 goals.
Goalkeeper Alan Borg Cole was inspirational behind his colleagues' expert blocking skills, which very often had Jordan Camilleri and Clint Mercieca alternating efficiently as last men.
The in-form left-hander Michele Stellini possessed the fire-power from the number one position while the versatile Hungarian pair of Molnar and Peter Biros, the latter scoring in every match he played after he joined our team from neighbours San Ġiljan, and the former displaying versatility and qualities reminiscent of vintage wine, were worth their wight in gold.
Timmy Agius and Andrew Zarb Cousin were always willing to enter the fray and could best be described as utility players who did their job unobtrusively but efficiently. Stand-in goalkeeper Brandon Muscat, Marc Lanzon, Gabriel Mizzi and Miguel Zammit all formed part of the thin end of the squad led masterfully by Sergey Markoch and his assistant Dorian Pisani.
The ambitions of our players are such that they seek to add more silverware to the club's glittering showcase. And judging by the success of our junior strings under the charge of Ġużi Attard and Dorian Pisani – they won three out of four championships – more honours seem a distinct possibility.
Our challengers
Our nearest challengers, Sliema and San Ġiljan, both fell by the wayside despite having longer squads than ours.
The Blues could not get going as they stumbled over too many hurdles, with several core players including John Soler, Mark Meli and Timmy Sullivan unable to raise raise their game consistently.
San Giljan, for whom only Matthew Zammit among the Maltese had a satisfactory season, were equally below par, also contriving to toss away unexpected points against an otherwise sturdy Sirens in the second round and eventually giving up their ghost. 
Sirens were the surprise pack of the season, never mind their team being tagged as a work-in-progress. Their coach Bogdan Rath managed to mould together a workmanlike team, belending a number of youngsters with the experienced tandem of Christian Presciutti and Csaba Kiss as well as the evergreen David Cutajar.
Valletta and Exiles alternated good moments with opaque ones, given their expectations. The City team were occasionally quite competitive especially when facing Sliema and San Ġiljan, while Exiles, mostly propelled by Gergely Katonas, managed only one win against Valletta and finished up retaining their top division status in a play-off against 1st Division champions Marsascala who also won the second-tier knock-out competition.
Marsaxlokk, finished second in the division's standings, with Otters and Ta' Xbiex following suit in a campaign that, thankfully, offered several balanced matches.
All in all it was another satisfactory season, despite a flat ending due to our unquestioned superority. Control by the referees was acceptable in certain matches, but not so in others. There was also rampant misbehaviour by players and supporters, with some offenders escaping scot free.
On top of that there were some inconsistencies in the way the disciplinary commissioner suspended some offenders as well as the occasional failure by officials to intervene in the absence of a report by the referees.
These failings ought to be addressed and the disciplinary code revised thoroughly in order to have more transparency in this sector.