Splendid Neptunes win third successive title
by Alex Vella
GAME 4
Sliema 6 –  Neptunes 9
(1-2, 0-3, 3-3, 2-1)
Victory for Sliema was a realistic proposition in Game 4 given their mental edge after winning the last match to reduce the deficit to 2-1 in the play-off series.
However, Neptunes Emirates had other ideas and repeated last year's feat in similar circumstances when they upstaged their opponents 3-2 in the final 2011 match. This time it took them four matches to win their 21st title and make it the second consecutive double.
The Balluta team put up a superb performance to leave their opponents puffing and panting both physically and in terms of ideas. They won handsomely even if not as emphatically as they had done in the first two matches.
Neptunes owe their victory to an excellent team effort which had purpose, power and precision complemented by calm qualities when the occasion demanded.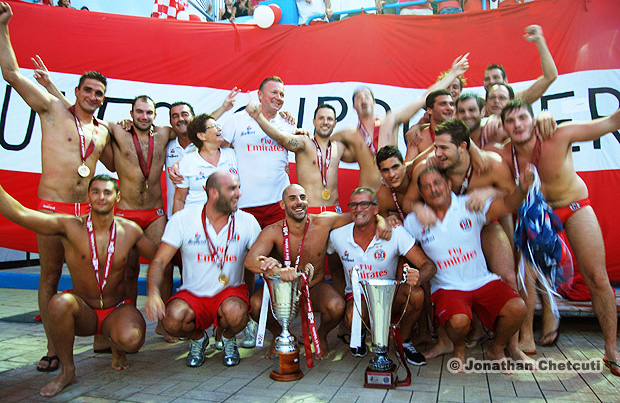 Again Hungarian Tamas Molnar, 37 and belying his age, was the chief scoring architect with a poker while Alexandar Ciric also displayed the qualities of a great player. These two players helped the team to an adequate 50 per cent success rate on man advantages.
The handicap of having to replace the suspended Michele Stellini after the player was excluded for serious foul-play in the previous match was expertly overcome as Ciric and Clint Mercieca took over Stellini's role in the number 1 position.
The other players also played their part to perfection against a Sliema side that betrayed signs of edginess in defence and uncertainty in attack as their 22 per cent reading on extra-man advantages showed.
Neptunes were superior from the word go and their 2-0 lead, reduced to 2-1 at the end of the first session was extended to 5-1 by the halfway mark.
The Blues could only show tentative efforts from a distance which very often went astray.
It was tight marking all over the place from Sliema after the Reds went 7-1 ahead early in the third session.
Six goals were shared in this quarter, during which Sergio Afric, the Blues coach, had to call a time-out to pep up his players.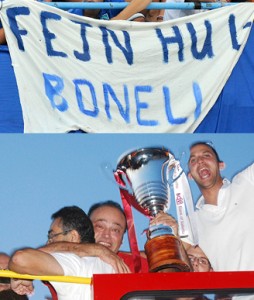 Neptunes responded with calmness and went for the jugular as they were tempted to utilise all their possession period.
Sliema's over-urgency proved their undoing as Sergey Markoch had an answer to all his opponents' ploys. A 2-1 scoreline in the Blues' favour in the last session could only limit their defeat to a three-goal margin.
Victory for Neptunes had rarely been in doubt. The day and summer 2012 belonged to the Balluta Bay team and their clan who glowed with delight as their faithful captain Niki Lanzon received the cup from Charles Azzopardi, BOV Marketing Manager, in the presence of Aquatics Sports Association president Joe Caruana Curran.
Sliema: I. Gergely, J. Gabarretta, N. Lubrano, P. Privitera, M. Meli 2, J. Soler 1, D. Paolella, J. Brownrigg 2, C. Debono, F. Salomon 1, J. Falzon, M. Spiteri Staines, C. Cluett.
Neptunes: I. Bugeja, N. Lanzon 1, E. Aquilina, B. Lanzon, Z. Mizzi, A. Ciric 1, S. Camilleri 2, J. Camilleri, G. Pace, S. Gravina, R. Sciortino, T. Molnar 4, C. Mercieca 1.
Refs: M. Angileri, M. Savarese.