Resilient Saints shock champs
Adapted from The Times report by Alex Vella,
San Ġiljan 13 
- Neptunes 12
(4-2, 4-3, 2-4, 3-3)
Showing great resilience and a better appreciation of press tactics, coupled with opportunism on man-ups, San Ġiljan shocked champions Neptunes Emirates to win by the odd goal in 25 yesterday.
This match confirmed San Ġiljan's potential after their recent victory over Sliema, with the team displaying collective qualities and exceptional power in the offensive phase where Bogdan Rath, Boris Letica and Karl Galea were the team's chief goal-getters.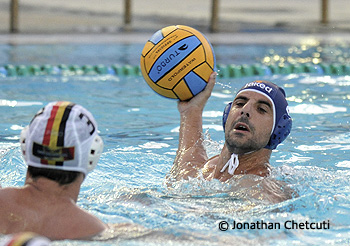 Neptunes had no excuses. They only have themselves to blame.
Erratic shooting and a 3-on-11 reading on man-ups, compared with their opponents' 6-on-9, also accounted for their defeat.
San Ġiljan were off the mark in brisker fashion, taking a 4-2 first-session lead against faltering opponents. Their stringent press unsettled the Reds and this resulted in a 5-2 advantage before Neptunes pulled back two goals.
However, the Balluta Bay Reds were growing frantic and hurried in their conclusions, especially on man-ups. San Ġiljan were more composed and deservedly took an 8-5 lead at the end of the second quarter.
Letica had been hanging on two early fouls but was still in the water with Shaun Gravina and Jordan Camilleri, each on two personal faults, as the Reds continued to show too much urgency.
Notwithstanding, they pulled back on 8-7 before levelling on 9-all only for Jordan Camilleri and Tamas Molnar (red card) to be expelled in the third session. Neptunes fought back to take an 11-10 lead with five minutes still to go but the Saints were still showing surprising resilience and three goals in their favour, two from Rath and the other from Letica, made it 13-11 before Gravina reduced the arrears 80 seconds from time.
The Saints remained unruffled to administer their lead admirably.
San Ġiljan: D. Camilleri, J.C. Cutajar, D. Abela, K. Galea 3, K. Dowling, M. Zammit 1, B. Letica 3, A. Bianchi 1, R. Mock, C. Gialanze, P. Fava, B. Rath 3, M. Pisani 2.
Neptunes: I. Bugeja, N. Lanzon 3, E. Aquilina, M. Stellini 1, G. Pace, A. Ciric, S. Camilleri 5, J. Camilleri, B. Lanzon, S. Gravina 1, R. Sciortino, T. Molnar 2, C. Mercieca.
Refs: M. Angilleri, S. Scappini.
Next fixtures
Tuesday: Division One 6 p.m. Ta' Xbiex Amigos vs Marsascala Mor€. Premier Division 7.15 p.m. Exiles Ferretti vs San Giljan Giuseppe's.
Wednesday: Division One 6 p.m. Valletta Sterling vs Otters Nivea. Premier Division 7.15 p.m. Neptunes Emirates vs Sliema McDonald's.