Match abandoned at the death with Reds awarded the verdict
by Alex Vella
Unfortunately a bright season ended on a most negative note when the much-awaited decider between Neptunes Emirates and San Ġiljan was abandoned less than a second from time, with the Reds leading 9-7.
The incident which sparked off this unexpected ending was an object that was thrown from the main stand where the Saints supporters were that hit the Italian referee Stefano Rizzitelli.
Subsequently the ASA executive committee convened hurriedly and decided to award the win to Neptunes given the circumstances.
Since their inception in 1929, Neptunes had rarely failed to enrich the club's showcase. Their latest league success, when beating San Ġiljan in this decider, added another prize to their remarkable pedigree of titles. This was their 22nd championship crown, their fourth in succession.
It was a reward for resilience and mental strength as they overcame opponents who were determined to topple them off their perch.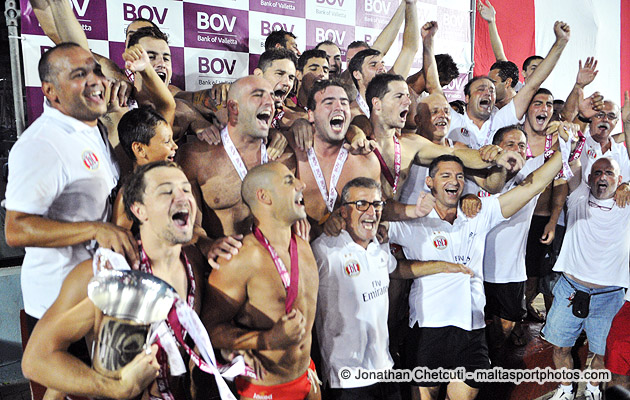 The likes of captain Niki Lanzon,who was presented with the cup by BOV Chief Officer Anthony Scicluna, and the striking catalyst Steve Camilleri were the team's main flagbearers complimented by the evergreen Hungarian Tamas Molnar and schemer-in-chief Aleksandar Ciric from Serbia.
The other components, whether top or middle order, as well as fringe players, all did their part in making 2013 yet another memorable championship year.
The Reds shaded an intensely-fought first session, keeping their noses in front by the odd goal in five. They conducted the scoreline with the Saints twice drawing level.
A low-scoring second session was marked by hurried shots, especially from the Reds, with the woodwork coming to the rescue when the goalkeepers looked beaten.
San Ġiljan without the suspended Karl Galea, were having a better extra-man success rate.
The contest remain firmly balanced with no quarter given despite Neptunes being more erratic on numerical superiority.
Clint Mercieca's goal for a 4-3 lead early in the third session was neutralised by Matthew Zammit. However, two goals from Michele Stellini put the Reds in front on 6-4 with the last session left.
The ponderable was whether Neptunes could fend off the Saints' frantic efforts to recuperate. A bullet from Steve Camilleri opened a three-goal gap on 7-4 but goals from Marko Avramovic and Paul Fava reduced the gap to one goal.
Camilleri again scored to make it 8-6 with Biros again hitting a goal back with 92 seconds left.
With a minute to go the Saints won their seventh man-up set which they failed to convert. It was their second miss and it proved fatal.
Neptunes profited and managed to score their second goal from five with less than a second left.
At that point, the incident mentioned earlier gave right to the referees abandoning the match and the ASA's subsequent decision.
San Ġiljan 7 
 – Neptunes 9 (2-3, 1-0, 1-3, 3-3)
San Ġiljan: D. Camilleri, J.C. Cutajar, C. Gialanze, J. Sammut, K. Dowling, M. Zammit 1, M. Avramovic 2, A. Bianchi, C. Spiteri de Barro, P. Biros 1, P. Fava 2, D. Zammit 1, M. Pisani.
Neptunes: A. Borg Cole, N. Lanzon 1, A. Sammut, M. Stellini 2, T. Agius, A. Ciric, S. Camilleri 3, J. Camilleri, G. Pace, S. Gravina, B. Lanzon, T. Molnar 2, C. Mercieca 1.
Referees: M. Dalli, S. Rizzitelli.