Neptunes twice beat Sirens to be the first team to qualify for the final
Play-Off
Played on Friday, August 26 and Saturday 27, 2011
FRIDAY:
Neptunes 20 –  Sirens 7
          
(3-2, 7-2, 4-1, 6-2)
Neptunes: I. Bugeja, N. Lanzon 2, E. Aquilina 2, M. Stellini 1, J. Camilleri 2, K. Debattista, S. Camilleri 4, V. Gojkovic 4, B. Lanzon, S. Gravina, R. Sciortino, T. Molnar 5, M. Pisani.
Sirens : N. Grixti, A. Attard 1, P. Micallef, P. Borg 1, T.Kiss 1, R. Mock, J. Borg, D. Cutajar 1, G. Kristonosic 2, C. Zammit 1, L. Caruana, D. Zammit, C. Mercieca.
SATURDAY:
Sirens 8 – Neptunes 15
   
(1-3, 3-3, 2-2, 2-7)
Sirens: N. Grixti, A. Attard, P. Micallef, P. Borg, C. Kiss 1, R. Mock, J. Borg, D. Cutajar 1, G. Krstonosic 1, C. Zammit 1, M. Grech, D. Zammit 2, C. Mercieca 2.
Neptunes: I. Bugeja, N. Lanzon 3, E. Aquilina, M. Stellini 1, J. Camilleri 2, K. Debattista, S. Camilleri 6, V. Gojkovic 1, B. Lanzon, S. Gravina, R. Sciortino, T. Molnar 2, M. Pisani.
Refs: P. Balzan, S. Pinato.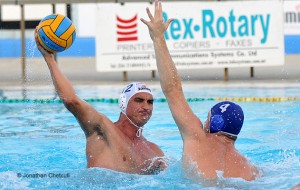 Neptunes Emirates, as expected, twice beat Sirens on Friday and Saturday, to become the first team to qualify for the best-out-of-five final.
In the first match on Friday, the Reds were much too good for Sirens who were handicapped by the absence of their injured goalkeeper Joseph Sammut, substituted by young Nicholas Grixti.
The re-introduction of Jurgen Borg was a plus in the fate of this adversity. However, the northerners could do very little to stem the tide that was inexorably flowing against them from the second session onwards.
After conceding the first goal, the Reds soon shrugged an easy going look about them to score three times before Sirens closed the gap to 3-2.
The Balluta side, with the useful tandem of Edward Aquilina and Michele Stellini back in their team list, opened the throttle in the second quarter to take a 10-4 lead. Their ability to vary their play and open out on the flanks before applying the killer touch with precise passing and potent shooting was too much for Sirens.
Although there was a slump in the Reds' scoring rate in the third session, they still kept the upperhand to stretch their advantage to 14-5.
More slick play and exquisite passing by the team guided by Sergey Markoch continued to be the order of the day as middle-order players and tailenders were introduced regularly.
Neptunes' huge victory had never been in doubt.
Neptunes' guns may have gone blazing on Friday, but not in this second match, at least until the final session.
In fact, a below-par performance by the Balluta Bay Reds helped the otherwise bold Sirens to keep within distance until the penultimate session.
Then, Neptunes unleashed their weapons to make it a comfortable victory and a berth in the final of the play-offs series.
The Reds eased away for a 3-1 lead in the opening quarter of the match.
Sirens, still with young Nicholas Grixti, who otherwise had a good game, between the posts went for tight marking to stiffle their opponents' possession.
The battling northerners managed to maintain the deficit to two goals on 6-4 in the next session as Neptunes were betraying signs of inaccuracy in their finish.
Neptunes grew increasingly casual and this made things easier for Sirens, determined not to be overrun by their opponents.
Four goals were shared for an 8-6 lead for the champions with the last session left.
However, the omens were bad for Sirens as they had Czaba Kiss and David Cutajar fouled out late in this session. Without resorting to wholesale substitutions, coach Sergei Markoch could relax as his boys stretched their lead to 12-6, with Steve Camilleri scoring his sixth goal.
In the end, it was free-wheeling for Neptunes as the gap assumed more familar dimensions.
OTHER MATCH:
Sliema 11
 – San Ġiljan 10

(3-3, 3-1, 2-3, 3-3)
Sliema: R. Coleiro, J. Gabaretta 1, N. Lubrano, R. Fodor 1, M. Meli 3, J. Soler 1, D. Paolella, M. Rizzo 1, C. Debono 1, P. Privitera, B. Rath 3, J. Spiteri Staines, D. Abela.
San Ġiljan: D. Camilleri, J.C. Cutajar, N. Sutic 3, K. Galea, F. Trajkovic 4, K. Dowling, L. Grixti, A. Bianchi, M. Borg Spiteri, C. Gialanze, P. Fava 3, A. Galea, K. Schembri.
Refs: M. Angilleri, R. Daniele.
Playing today
5.15 p.m. Valletta vs Marsascala
6.30 p.m. San Ġiljan vs Sliema