Neptunes 19 – Exiles 10
(7-0, 3-3, 6-5, 3-2)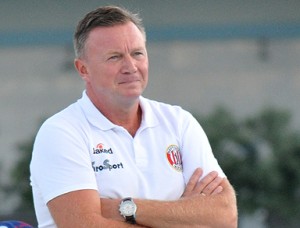 With Exiles having the daunting task of at least picking minimum spoils against Neptunes Emirates, who were intent on keeping their perfect record, the Reds were again in uncompromising mood as they dismissed their opponents 19-10. The final result sealed Sirens' place in the play-off semi-finals.
A massive seven-goal base resulting from the Reds' superiority in the first session had Steve Camilleri firing in four goals with Tamas Molnar and Nikki Lanzon netting two of the others. Those conversions had the three players maintaining their record of scoring in every league match.
A number of substitutions by Sergey Markoch as well as Exiles' improved play kept the margin between the teams on seven goals after six were shared in the second session.
Marco Cuk was the next to emulate the three Neptunes players who scored in every match.
Molnar increased his tally to seven goals as the last session began with the Reds 16-8 ahead.
Neptunes without Michele Stellini, Edward Aquilina and long-term absentee Brian Buhagiar, kept cruising despite the usual introduction of fringe players.
The great Vladimir Gojkovic netted his usual goal for another en plein in league matches. Statistics were the only element in the forefront as Molnar was followed by Steve Camilleri and the confident Matthew Pisani who each scored a poker.
Neptunes: I. Bugeja, N. Lanzon 3, B. Lanzon, M. Stellini, J. Camilleri, K. Debattista, S. Camilleri 4, V. Gojkovic 1, G. Pace, J. Gravina, R. Sciortino, T. Molnar 7, M. Pisani 4.
Exiles: A. Borg Cole, J. Rizzo Naudi 1, K. Rizzo Naudi, D. Pace Lupi, T. Sullivan 1, M. Calleja 1, M. Cuk 4, K. Grixti, A. Zarb Cousin, A. Cousin 1, N. Portelli, A. Sciberras, K. Lanzon 2.
Referees: M. Dalli, R. Daniele.