Imperious Reds demolish Sliema
Sliema 9 – Neptunes 18
(1-4, 3-8, 1-3, 4-3)
In previous years when only multi-round league matches were played without a top-heavy, percentage-wise, play-off system the team topping the table would have started easing off the champagne bottle cord long ago.
This would have been a ritual for the second year running for Neptunes Emirates this season and no one would have begrudged the title of champions going our way. Such was our team's extraordinary dominance this time that there was not a single side that could live with us.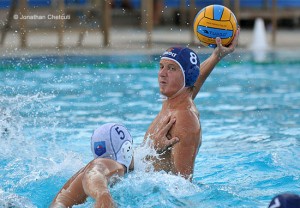 After remaining unbeaten in the 2010 league campaign we continued our relentless run in absolutely dominant fashion. Yesterday we added the scalp of none other than Sliema Mc Donald's whose demolition was complete by the end of the second session. It was simply a case of men against boys in a match which was otherwise valid for statistics and prestige as well as a possible morale- booster for our opponents who had succumbed to our power on three previous occasions this season.
It was a show of class, perhaps unprecedented in local waterpolo history. The impeccable Vladimir Gojkovic in the water and the master on land Sergey Markoch were the architects in a display which had our boys combining in telepathetic fashion to rip open our opponents' rearguard with a variety of possession play rarely put up by a Maltese team.
The Blues could do nothing against this powerful fare, never mind having long been denied of a couple valid players this season. That would have made no difference. Sliema's only consolation, if that can be called so, is now the repechage system. This flawed play-off system concocted by so-called 'experts' would give them some hope. But then they would have to raise their game immeasurable. The Reds, this time without Edward Aquilina who is nursing a broken rib, started solidly with their usual play opening on the flanks and extending their opponents' rearguard. They led 4-1 after the first session with Michele Stellini scoring a brace and Steve Camilleri and Gojkovic netting the others. The Blues reduced the arrears temporarily on 2-1 through Mark Meli.
The Balluta team produced some exhilarating fare in the second session, with Gojkovic, Molnar, Niki Lanzon and Steve Camilleri running circles round the Sliema rearguard. In no time the gap widened to 12-4 by mid-point with the contest as good as over. Realising that zone cover was proving costly, Sliema shifted to rigid press. Meanwhile, Molnar acting on the instructions of Markoch, eased his strict attention on Bogdan Rath.
With Neptunes 14-5 ahead the Blues and their numerous supporters went into complete submission. Their pride was hurt. The third quarter ended with the Reds 15-5 in front with five of our players, Lanzon, Stellini, Steve Camilleri, Gojkovic and Molnar each scoring three times. With the result a foregone conclusion a couple of middle order Neptunes players were put into the fray in the latter sessions with all four youngsters being introduced towards the end of the match. The Blues were then able to limit the damage, but not before that supreme professional, Gojkovic, reached a handful of goals and Sliema
finally picking their spot on a last-gasp penalty after missing a previous one and also five man-up sets.
Yes, we were a real class act yesterday.
Sliema: R. Coleiro, N. Bonello Ghio, N. Lubrano, R. Fodor 3, M. Meli 2, J. Soler 2, D. Paolella 1, M. Spiteri Staines, C. Debono, M. Rizzo, B. Rath 1.
Neptunes: I. Bugeja, N. Lanzon 3, B. Lanzon, M. Stellini 3, J. Camilleri, Z. Mizzi, S. Camilleri 3, V. Gojkovic 5, K. Debattista, S. Gravina, R. Sciortino, T. Molnar 3, M. Pisani 1.
Refs: M. Dalli, D. Di Martire.