Masterful Neptunes cut Blues down to size as they seal 22nd Cup win
Sliema 12  –  Neptunes 15
(1-5, 3-4, 3-3, 5-3)
Never mind the 15-12 victory which is deceptively close, this was another impressive display from our matadors masterminded by the superlative scoring skills of the inimitable Steve Camilleri and the evergreen Tamas Molnar who netted six and five goals respectively.
Not only, but the collective skills and superb game-plan devised by Sergei Markoch completely cut our opponents down to size.
When the team is on song we have no peers in the local game. Safe goalkeeping, effective blocking and our knack of varying our game when we are in possession make for a truly formidable outfit which is as awesome for our opponents as it is uplifting for our clan.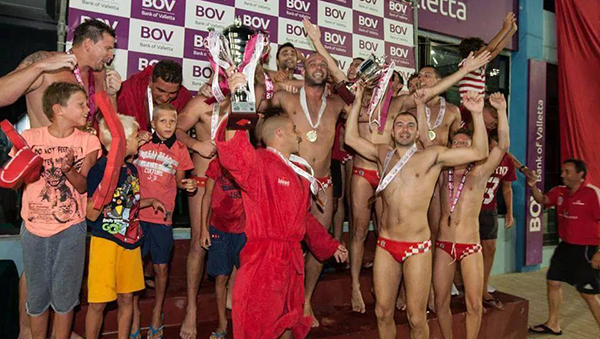 After the superb victory over San Ġiljan, it was the turn of our rivals from Għar-id-Dud, to taste the might of our scoring machine.
Five one to the good in the first session, we kept up the pressure on Sliema to the point of having their coach Vincze Balazc shuffling in vain with his pack, including the two goalkeepers, whom he interchanged several times
We opened a six-goal advantage at one point in the second quarter and then again in the third as hot-shot Stevie and Tamas kept churning out the goals.
We could then afford to take our foot off the accelerator despite having to withstand a spate of expulsions, 14 in all from which the Blues netted eight times. Our three on seven reading did not matter much.
Our task had been completed well before the final whistle, as our oppoents sought to find refuge in making the scoreline less disastrous for their liking.
For the record, this was the fifth cup success for captain Niki Lanzon, Michele Stellini and Steve Camilleri and the first one for Timmy Agius, Andrew Zarb Cousin and Brandon Muscat, our recruits on loan.
Sliema: R. Coleiro, J. Gabarretta 2, N. Lubrano, T. Sullivan, M. Meli 1, J. Soler 1, J. Borg, C. Cluett, J. Brownrigg 1, N. Bugelli, I. Basara 2, A. Petkovic 5, K. Schembri
Neptunes: A. Borg Cole, N. Lanzon 1, M. Lanzon, M. Stellini 1, T. Agius, M. Zammit, S. Camilleri 6, J. Camilleri, A. Zarb Cousin, P. Biros 2, B. Muscat, T. Molnar 5, C. Mercieca
Referees: M. Dalli, A. Severo