Loris Manche – Essence of Versatility
A Neptunes member who can proudly say that he has occupied almost all administrative and technical positions within the structure of the club is Surgeon Major Loris Manche, currently Honorary President of the club.
Now in his late eighties Dr Manche can boast of having been a player, a committee member, secretary, president, medical adviser and coach. You name it, he's done it..! This rich pedigree of versatility endorses an impressive connection with the club spanning almost three-quarters of a century.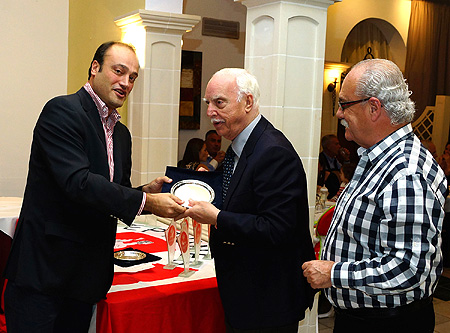 His late wife, Yvonne, nee Wismayer, was always by his side during Loris's active years of service for Neptunes. Her presence also as a staunch supporter invigorated and spurred him to give more for Neptunes.
We are all very proud to have Loris as a prominent elderly member who has and is still having Neptunes close to his heart. His presence even at his advanced age at the National Pool tal-Qroqq whenever the team is playing is proof of this great affection.
Highlights of his connection with Neptunes as a player and coach.
Joined Neptunes as a boy in 1938 and immediately started playing waterpolo in the club's inter-league.

In 1945 he replaced Joe Albanese ('Banis') in the senior team and went on to help Neptunes win the championship that year. He had a meteoric debut when netting his first goal, beating Jackie Frendo Azzopardi, the Sliema ASC goalkeeper, in the opening minute against Sliema.

He played alongside well-known club players such as goalkeeper Pawlu Mercieca, Jimmy Platts, Rinald and Frans Wismayer, Wilfred and Babsie Podesta and later on Bertie Portelli, besides others.

He was also a member of Neptunes' championship winning side in 1949 in a career spread over 18 years as member of the senior team of which he was captain for several years.

He retired from waterpolo in 1963.

In 1964 he was appointed coach, leading Neptunes to a league and cup double that same year. That was also instant success…!

Under his coaching guidance Neptunes again won the double in 1969 and 1972, with the team winning the knock-out on another two occasions in 1967 and 1970.

He retired from coaching in 1974, due to his son Noel nearing the senior team ranks.
Highlighta as an administrator.
He was appointed the club's second Honorary Secretary in 1944.

He was handed the task as the club's medical adviser upon his graduation in 1949.

In the late fifties and early sixties he was Neptunes' president for a number of years.

He was president when Neptunes had its first concrete clubhouse built.

In 1975 he was appointed honorary president during the club's AGM in recognition of his sterling services to the club throughout the years.
Dr Loris Manche is undoubtedly the epitome of what a loyal club member should be. His presence at the club re-evokes among other elderly members pleasant memories of Neptunes' past glorious days.
During the end of season dinner Loris's achievements were highlighted by president Matthew Bonello after which he was presented with a token of appreciation on behalf of the club's committee. It was a fitting and deserved tribute to him.
Thank you very much Loris.