Gritty Blues recover to draw series
Adapted from The Times report by Alex Vella at the National Pool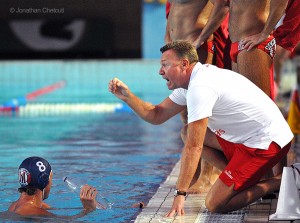 Sliema 15 – Neptunes 14
(aet – 2-5, 1-3, 3-1, 6-3, 2-1, 1-1)
This was yet another match in the best tradition of Neptunes Emirates and Sliema.
It was unending drama as the Blues' fire and brimstone, which appeared negligible as they nosedived to an 8-3 deficit by mid-point, suddenly surged to the fore to leave their opponents stunned with a remarkable recovery that had its climax in extra-time to the exultation of their clan.
Those last moments were full of excitement with the result hanging in the balance with 25 seconds left.
Five-goal John Soler was the catalyst of Sliema's victory, with goalkeeper Ryan Coleiro also getting the plaudits for some fine saves. But all in all it was a great team performance for the Blues who now draw the series 1-1, with the remaining matches surely sparking off sporting fireworks.
The Reds sprinted to a 5-2 lead in the first session, a scoreline which reflected their sharper qualities. They also bossed the second quarter to win it 3-1 for an 8-3 advantage. At one point, during the second period referee Peter Balzan stopped the game after Sliema supporters threw a plastic cup containing liquid in his direction without actually hitting him. The official threatened to abandon the match if any incident was repeated.
The Blues were nudged into some sort of awakening as they scored three in succession to cut the deficit to 8-6, at which points Neptunes stalled only to make it 9-6 with three seconds left in the third session.
Meanwhile, Clint Debono was fouled out. Jordan Camilleri followed suit early in the fourth session. The Blues smelled blood as Paul Privitera, twice, and Soler level matters on 11-all after Neptunes led 11-8.
Sliema eventually went ahead 12-11. The champions were muted into silence but Vladimir Gojkovic restored parity amid great excitement.
It was on to extra-time with both teams fired up, not the least Sliema, authors of a great comeback after blasting their opponents 6-3 in the last session.
They led 2-1 after the first mini- session as both teams' resources were thinned with two players on each side fouled out. Sliema fully exploited their momentum to go in raptures after ending winners and thus opening up hopes for a championship win in extremis.
Sliema: R. Coleiro, J. Gabaretta 1, N. Lubrano, R. Fodor 2, M. Meli 1, J. Soler 5, D. Paolella, M. Rizzo, C. Debono, P. Privitera 3, B. Rath 3, J. Spiteri Staines, D. Abela.
Neptunes: I. Bugeja, N. Lanzon 2, E. Aquilina, M. Stellini 2, J. Camilleri 1, B. Lanzon, S. Camilleri 3, V. Gojkovic 2, K. Debattista, S. Gravina, R. Sciortino, T. Molnar 3, M. Pisani 1.
Refs: P. Balzan, S. Ricitelli.