Former Neptunes vice-president Michael Gialanze passes away
The death has been announced of Michael Gialanze, a much loved Neptunes WPSC member and former club vice-president who passed away on 20 September.
A medical doctor by profession, Michael, as he was affectionately known at our club and among his numerous friends both socially and in sport, was a veritable club stalwart in the tradition of his elder brother and ex-Neptunes goalkeeper in the sixties, Tony.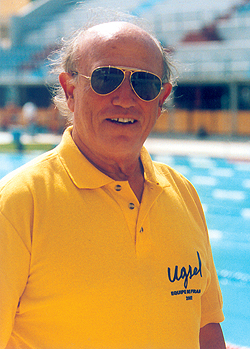 Michael's love for sport knew no bounds. He is intrinsically associated with swimming as he helped to establish the sport in Malta on organised lines in the eighties and early nineties after he started his love affair with this discipline while practising his profession in Saudi Arabia.
His son, Christian became a foremost swimmer as he set up innumerable national records before he took up waterpolo and played for our senior team for a number of years. Presently Christian is on the books of San Ġiljan.
Dr Gialanze's brainchild is undoubtedly the Easter International Age-Group Swim Meet which was held for the first time in Malta in 1994 soon after the Tal-Qroqq National Pool was inaugurated.
He was instrumental in organising this event which is still being held annually and is now an established item on the international swimming calendar as testified by the participation of many overseas swimmers.
The man was for the best part of two decades, vice-president of the ASA and chairman of national association's swimming board.
Until very recently he was an ever present for senior waterpolo matches at Tal-Qroqq and also the junior matches played at Neptunes, where he used to watch his grandson Luke playing for our U-15 and U-17 teams.
To his wife Gillian, his children Christian and Nicola and his grandchildren go our sincere condolences.
Neptunes, indeed, are the poorer without Michael Gialanze.