Exiles fall prey to Reds' mastery
Exiles 10 – Neptunes 19
(3-5, 3-4, 4-3, 0-7)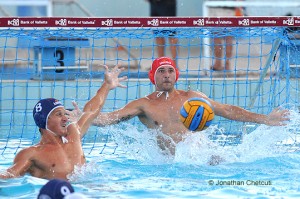 Report by Alex Vella in The Times
There is no stopping Neptunes Emirates at the moment.
The Balluta Bay team again kept their armoury free of any chinks as they recorded their umpteenth consecutive victory, this time against Exiles who fell prey to the champions' flamboyance, particularly in the last session.
The Reds pressed the accelerator at opportune moments in a duel which had the underdogs pulling back the deficit at one moment in the second session to just a single goal after they had trailed by three or four most of the time.
However, a goal-rush in the last session was too much for Joe Caruana Dingli's team.
Neptunes took a 5-3 lead in the first session with Exiles hitting back twice after being 5-1 behind.
With Exiles pulling the strings and the Reds in pause/play mode, the gap was reduced to 7-6 with less than two minutes left for the end of the second session. However, two goals from Matthew Pisani and a Vladimir Gojkovic penalty made it 9-6 for Neptunes.
Julian Rizzo Naudi, followed by Michele Stellini, were soon fouled out with Neptunes' resources appearing somewhat stretched as they had Shaun Gravina again missing. Exiles twice reduced the leeway to two goals after trailing 10-6 and 12-8 to start the last ses-sion 12-10 behind.
But, Exiles ran out of fuel in the last quarter with Neptunes still having plenty in their tank.
The Reds unleashed their weaponry to open a gaping lead which left their opponents dazed.
They scored seven goals without reply, one of which was from Edward Aquilina with a bullet from eight metres out.
Exiles : A. Borg Cole, J. Rizzo Naudi, K. Rizzo Naudi 1, D. Pace Lupi, T. Sullivan 3, M. Calleja, M. Cuk 4, K. Grixti, A. Zarb Cousin, A. Cousin 2, N. Portelli, A. Sciberras, K. Lanzon.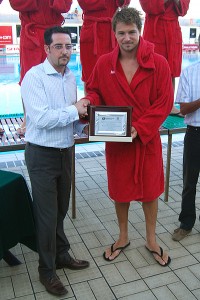 Neptunes : I. Bugeja, N. Lanzon 3, E. Aquilina 1, M. Stellini, J. Camilleri 2, S. Camilleri 6, V. Gojkovic 3, B. Buhagiar, K. Debattista, R. Sciortino, T. Molnar 3, M. Pisani 1.
Referees: M. Angilleri, S. Scappini.
Steven Camilleri wins BOV award for July
The ASA announced that the winners of the BOV best players of the month for July were Steve Camilleri (Neptunes) and Christian Cluett (Ta' Xbiex).
This year the ASA introduced a new system for the selection of those players winning the monthly awards in both divisions with a panel of 41 voters, including council members, coaches and referees, involved in the process.
Edward Muscat Azzopardi, Head Marketing at BOV, presented the awards to Camilleri and Cluett at the National Pool.