All-conquering girls eye higher targets
The 2013 Neptunes successes in men's waterpolo have extended to the women's sector after our girls won the league and cup double during the same year, the former held after about 20 years, and the latter staged for the first time.
The squad under the charge of Sandro Bianchi proved to be several notches above their rivals when landing the championship and knock-out titles with a clean sheet, scoring a total of 139 goals and conceding 42.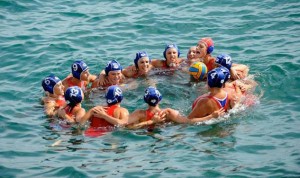 Although the bulk of goals came from the quintet of Gail Rizzo, Maddalena Musumeci, an Italian Olympic Gold medallist in Athens 2004, Sofia Lombardo, Roberta Stellini and Shanice Cassar, who between them netted 107 goals in both competitions, the team was a homogeneous one as eight other components out of 15, who formed the squad at one time or another, shared in the goal bonanza.
After running away with championship, the girls also managed to lift the first ever cup competition beating their rivals convincingly.
It is satisfying to note that the togetherness in the squad is serving to cement stronger bonds in a team that is setting their sights on retaining their dominance in local women's waterpolo and perhaps aspire to compete internationally one day.
The will and the enthusiasm plus the talent are not missing. These qualities, very evident in the male sector, provide an encouraging platform for our girls.
Higher targets our within our reach. Yes, Neptunes look set to dominate in this sector.
Match statistics:
League
Neptunes – S.Ġiljan 11 – 9, 15 – 6
Neptunes – Sirens 22 – 4, 15 – 2
Neptunes – Sliema 22 – 11, 15 – 5
Knock-Out
S/F Neptunes – Sirens 21 – 2
F Neptunes – S.Ġiljan 18 – 3
Neptunes' scorers in both competitions:
G. Rizzo 27
M. Musumeci 27
R. Stellini 19
S. Cassar 18
S. Lombardo 16
A. Galea 7
R. Cutajar 7
S. Camilleri 5
K. Navarro 5
M. Scerri 4
N. Cremona 2
A. Calleja 1
G. Debattista 1
The other girls who formed the Neptunes squad are: S. Dejardin (GK) and L. Desira