Steve Camilleri maintains scoring streak as he strikes a naphand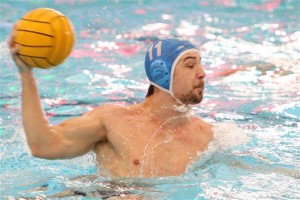 Our waterpolo star Stevie Camilleri is still piling up the goals for RN Bogliasco. His latest feat is a handful he netted against RN Camogli, albeit in his team's latest 13-12 defeat in the Genoa derby on Saturday 4 February.
That nap-hand put him in third place in the overall scoring rankings of the Italian top league, after having at one time late last year been top of the star-studded list. Steve is now on 40 goals, ten and 12 goals ahead of team-mates Heiko Nossek of Germany and Italian international Arnaldo Deserti, who formed part of Italy's team that won last year's world championship in Shangai.
Our boy also came in for a lot of praise from ASA president Joe Caruana Curran in a recent media conference during which the association's top official spoke about the player's contribution to the game and the fact that Steve, who was in the very forefront of the SportMalta 2011 contests, boosted even further his own standing as the top Maltese player as well as the popularity of waterpolo in Malta.