Our lads tune up to retain President's Cup
Another hot duel in the best traditions of Malta's foremost waterpolo exponents, this time having at stake the President's Cup, went the way of Neptunes at the expense of Sliema.
This was a deserved victory for our fired-up lads who conducted the scoreline throughout except for a brief moment when the Blues levelled matters on 5-5 midway through the third session.
Our boys had a clear edge for long moments during a match in which both sets of defenders in front of two steady goalkeepers blocked quite efficiently, with our team looking more solid at the back and opportunistic when in the phase of execution.
Our expulsions were double than those of our opponents. Still we held out with not a little assurance, conceding two goals out of eight extra-man sets our opponents had. A chink in our armoury, though, was our inability to convert goals on the four exclusions Sliema had, plus a penalty which went unconverted by Stevie Camilleri.
But then our team, which had set off the blocks in top sprinting fashion when taking a 3-0 first session lead, showed more composure and kept the Blues at an arm's length in the latter stages of the game.
Stevie Camilleri, quiet for long stretches earlier on, came bang into scoring form at a crucial moment when the influential Peter Biros was excluded three times in quick succession with more than half the last session to go.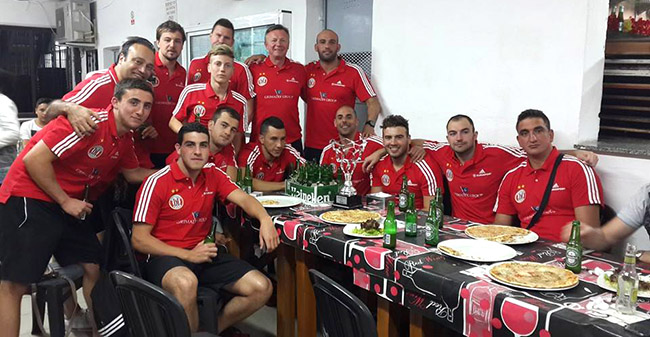 Our character came to the fore now as we repelled all that Sliema could throw at us.
We ended just as we had started as our lead hovered between two and three goals before the final signal saw us emerge from the pool with a triple goal cushion
It was our eighth success in this annual Cup match, two more than our sporting rivals, Sliema.
This victory should give us much-needed oxygen in view of the challenges we face this season, especially that of defending the league title for the fifth year in succession.
Well done boys.