Neptunes 13 – Exiles 8
(4-2, 4-1, 4-2, 1-3)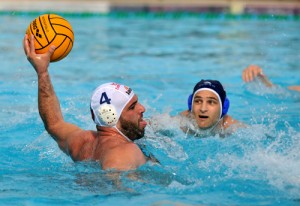 Neptunes Emirates again pulled the strings to dismiss Exiles and in the process win Group A, thus relegating their opponents to the third place behind Sirens with Valletta finishing fourth on goal difference.
The play-offs to determine the divisions will see the corresponding four top teams in each section now play each other.
As the pundits expected, the Neptunes-Exiles match resulted in an easy test for the Reds whose credentials alongside those of Sliema should put them among the favourites for this year's title.
Despite Exiles' fighting stance, the champions made sure of their victory in the opening sessions, thereafter going through the formalities of giving their tailenders a feel of the water.
After twice going a goal down, Neptunes charged their batteries to take a 4-2 lead at the end of the first session, with Michele Stellini netting a brace.
The writing was on the wall for Exiles as they slumped to an 8-3 deficit at the half-way mark. The Reds, bar some over-confidence, had been clearly in the driving seat, with Steve Camilleri and Tamas Molnar emulating Stellini in the scoring statistics up till then.
Vladimir Gojkovic scored twice but not before Molnar netted his personal third. Stellini followed suit before Camilleri had a penalty saved.
Nevertheless, Neptunes stretched their lead to seven goals at the three-quarter mark, an advantage which had coach Sergei Markoch reshuffling his team.
These changes helped Exiles to win the last session 3-1 and make it a less gaping defeat.
Summaries
Sirens 17 – Ta' Xbiex 10
(3-3, 5-3, 4-3, 5-1)
Sirens: J. Sammut, A. Attard 1, P. Micallef, P. Borg 1, B. Nyeki 4, R. Mock, J. Borg, D. Cutajar, P. Zimonjic 1, C. Zammit 4, L. Caruana, D. Zammit 3, C. Mercieca 3.
Ta' Xbiex: L. Borg, S. Vassallo 1, C. Cluett, D. Borg 1, J.C. Decelis, T. Gyrovath 3, E. Bonello 2, M. Cordina 2, M. Agius, R. Attard, B. Muscat, Y. Zseles 1.
Referees: M. Dalli, P. Giordano.
Neptunes 13 – Exiles 8
(4-2, 4-1, 4-2, 1-3)
Neptunes: I. Bugeja, N. Lanzon 1, E. Aquilina, M. Stellini 3, J. Camilleri, Z. Mizzi, S. Camilleri 4, V. Gojkovic 2, B. Buhagiar, S. Gravina, R. Sciortino, T. Molnar 3, G. Pace.
Exiles: A. Borg Cole, J. Rizzo Naudi 1, K. Rizzo Naudi 1, D. Pace Lupi, T. Sullivan 3, M. Calleja, M. Cuk 2, K. Grixti 1, A. Zarb Cousin, A. Cousin, J. Paris, A. Sciberras, K. Lanzon.
Referees: G. Centineo, S. Licari.