Neptunes benefactor and frontline supporter passes away suddenly
The news on Wednesday 26 September that Stephen La Rosa passed away suddenly left his family and relatives, all his friends at Neptunes and numerous other acquaintances shocked and dumbfounded.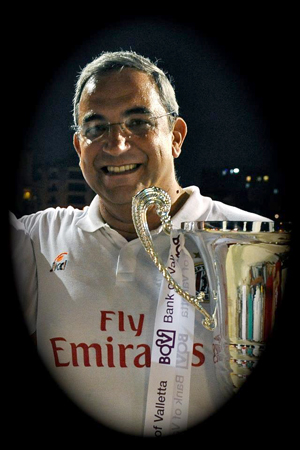 Never was chilling news of this magnitude received with such profound regret by those who knew Stephen. He was an amiable person and a topmost Reds' supporter who was constantly in the front line not only in commemorative photos of victory celebrations with the team but also as a great benefactor of a club that was so close to his heart.
His donations to players as mementos as well as his financial support for the club are testimony of Stephen's great generosity.
The saying that the good die young could not be more apt in the sad and sudden demise of a relatively young Neptunes stalwart club member and supporter who was ever present for the team's matches.
His passing away was unexpected since only a few hours before he was preparing to play a fun waterpolo game at the Neptunes pool between the two teams composed of veterans. Alas, he was suddenly taken ill and not long afterwards he passed away.
We were all stricken with disbelief.
To his wife Louise, his son Daniel, parents George and Marion, his sister Joanna and all his relatives we convey our sincere condolences.