Easter Gesture by Neptunes' Juniors
As has become a custom recently, this Easter Neptunes' Juniors found time to help children in need as well as to acknowledge the sterling work being performed by our front-liners in the fight against the current pandemic.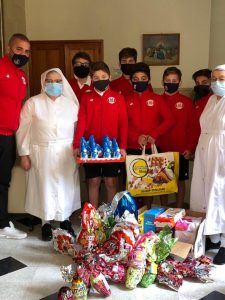 Led by junior teams' manager Rainer Scerri some of our Under-13 players visited the Ursuline Creche in Sliema and presented the Reverend Mother with Easter Eggs, and foodstuffs related to the Easter festivities for the children under their care (picture on right). Then, representatives of the Under-15s and the Under-17s paid a visit at the Mater Dei COVID-19 Hub where they presented the frontliners with figolli and pannettoni as an appreciative gesture for their unstinted work with their patients (pictured on left). All this was made possible through the efforts of  Rainer to whom the club is most grateful.