Bogliasco in the 'play-offs'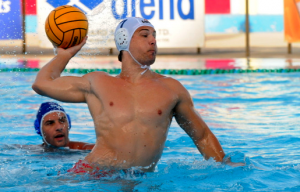 RN Bogliasco obtained another 'double' to qualify for the Italian top Serie A1 play-offs when they saw off lowly Carige Olio Carli Imperia 14-8. (session scores 1-5 4-1 1-6 2-2).
Although scoring a first-session hat-trick, Steven Camilleri lies second in the Bogliasco scorers' list as German ace Heiko Nossek who was level with Steven before the match scored five goals (two from penalty-throws) and is now on 47. Steven is on 45.
The other Bogliasco scorers were Arnaldo Deserti (3), Alessandro di Somma, Roman di Somma and Daniele Bettini.
Bogliasco scored two goals from from four man-ups while the hosts scored two from seven.
Bogliasco are now paired with Lake Iseo Brixia on a best-out-of-three play-off. The first match is on Friday, 8th April and will be shown live on TV (details later).
The other pairings in the play-offs are: Ferla Pro Recco vs Latina Pallanuoto, Carisa Savona vs Rari Nantes Camogli, CN Posillipo vs Rari Nantes Florentia.
It is interesting to note that in the lea gue matches proper, Brixia beat Bogliasco 10-8 on the opening day of the Serie A1 on October 15, 2010 and the return leg on January 15, this year, was won by Bogliasco 8-7.