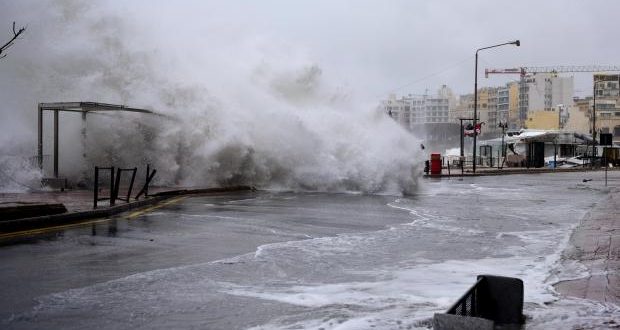 The February 23/25 storm that whipped across our islands was probably the worst in history as it seems that no one was spared from the ferocious winds and strong waves that pounded against our shores.
Our club was certainly one of the victims. Wind gusts reached a record 72 knots and this triggered huge waves that littered every corner of our club with seaweed and sea water ruining the freshwater in our pool.
The seven large blankets used to preserve the warm temperature of the pool during the night were blown in the water together with a number of sea beds which were stacked on the deck.
Severe damage was caused to the gym which was flooded with water and seaweed. Our waterpolo captain of the senior side, Niki Lanzon, runs the place and this activity had to be suspended until repairs and refurbishment are carried out.
Assistance from members to clean our club was prompt and the blankets and sunbeds that had been blown in the pool were retrieved from the water. The sand and seaweeds was cleared from the deck the next day when, among the helpers, were the first team Montenegrin waterpolo coach Jovan Popovic and Hungarian swimming head coach Ronald Eskudt.
The water from the pool has being drained. To refill it with fresh water a substantial sum of money is needed. Hopefully, our club will benefit from some sort of aid to help getting our dear Neptunes back on its feet again.