Steve Camilleri tops Bogliasco's scorer's list
Fifth in overall Italian rankings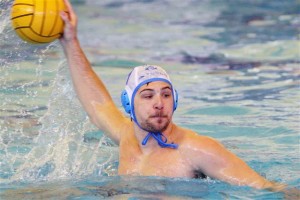 Success, even if on a purely personal plane, has been synonymous with Steve Camilleri since he joined the Italian Serie A1 team RN Bogliasco four years ago. Playing in his fourth season for the team from Genova, the Neptunes-bred player, who has established himself as one of the mainstays of the Balluta Bay team as well as the side representing the main city on the Ligurian coast, once again ended as his overseas team's number one scorer in 2012.
The Maltese lad also finished fifth overall out of well over 120 scorers in a league competition that includes some of the best continental players who also rank as top performers in the world.
Camilleri netted 48 goals in 21 matches, an average of 2.29 goals per match. The tally should have been 49 were it not for an error in one of the match cards during the season which deprived him of a goal. The official card statistics prevailed despite the Italian journalists' attention having been drawn to this fact.
That total could also have been closer or even surpassed that of Antonio Petkovic (he scored 52 from 22 matches), who ranked one place higher in the general list. As far as Bogliasco's scorers' list was concerned, German Heiko Nossek finished second with 37 goals, with Italian national team player Arnaldo Deserti on 34.
Camilleri's scoring statistics gain more in prestige when one takes into account that he finished above Tibor Benedek, Tamasz Marcz, Bogdan Rath, Predrag Zimonjic and Federico Pagani, players who graced Maltese waterpolo in recent years, leaving a sigificant mark on our game. The Maltese player also left in his goal-scoring wake other top performers like Boris Popovic, Roberto Calcaterra, Tomislav Primorac, Filip Filipovic, Alex Giorgetti and Maurizio Felugo.
In the previous three seasons with Bogliasco Camilleri also finished ahead of other talented scorers, a feat which attests to this lad's exceptional scoring talent. When I pointed this out to him, he played down this fact. 'At the start of this season I had set a target of 200 goals over these last four years. If my calculations are right it's 203 goals in 94 matches I played so far since joining Bogliasco,' he replied when asked about any scoring benchmarks he had set his sights on.
Turning to his team's performances his satisfaction was not apparent at all this time. 'We had high hopes for this year given that the team had been strengthened after last year's fourth place. However, we never really managed to pick up a rhythm and play on a consistently high level.
In my opinion this was due to the considerable change that was made to last year's squad. This included the introduction of four new players and a coach at his first coaching experience in top flight waterpolo.'
Referring to his team's matches in the play-offs, Camilleri had no option but to be realistic. 'Our next game is against Pro Recco. Considering the clear difference in level, they will surely have no trouble going through to the semis. We then play for a placing from 5th to 8th, meeting the losers between Acquachiara and Posillipo.'
Camilleri's stay in Italy after the regular season is set to be prolonged because of the play-offs, which could also help him add to the number of goals he scored. After that he will be looking to a period of rest and relaxation, with his summer toils for Neptunes coming up next.