Malta edge Turkey in tight LEN qualifier
Malta 8 – Turkey 7
(2-1, 2-2, 3-2, 1-2)
(adapted from The Times report by Alex Vella)
Malta rose to the occasion in great style at Tal-Qroqq as they outwitted Turkey 8-7 to reach the next round of the European Championship.
It was a commendable performance by the Maltese which vindicated the trust shown in them by coach Sergio Afric.
A team effort of remarkable proportions was rubber-stamped by Neptunes players Steven Camilleri, who was a constant reference point but also scorer of a hat-trick and by Michele Stellini scorer of two goals. Last but not least Alan Borg Cole in goal played a blinder as he pulled off a series of fine saves. Neptunes' other two players in the Malta side were our non-stop captain Niki Lanzon and young Jordan Camilleri.
Statistically, Malta were superior on man-ups, scoring seven on 13 most of them at crucial moments, while the Turks, who have already qualified for the next phase, could only net once from eight such occasions.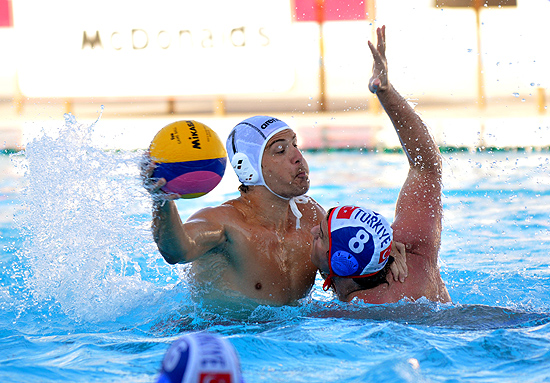 Turkey took an early lead but eventually the hosts closed ranks and netted twice through Karl Galea and Camilleri on either side of a missed penalty by Turkey.
Galea's jostling in the centre was earning expulsions in Malta's favour. Their fifth and sixth extra-man sets were unproductive.
Meanwhile, Turkey scored twice to go 3-2 ahead.
Camilleri, employed on position no.6, was directing operations. Nevertheless, he managed to find the net from eight metres out to level the score before Andrea Bianchi restored Malta's advantage for a 4-3 lead at mid-point.
Although tightly marked, Malta stalwart Camilleri again found time to slot his third goal for a 6-4 scoreline after Halil Beshar-desler scored the first of his two goals.
Stellini had earlier given Malta a 5-3 advantage. Incredibly, Turkey lost a double man-up but eventually succeeded in pulling one back to make it 6-5.
With less than two seconds to go for the end of the third session, Stellini's sizzler off the post restored Malta's two-goal lead.
Meanwhile, Borg Cole was doing sterling work in goal, reaching at all angles. With Jordan Camilleri in, his brother Steven was released from deep duties. Jerome Gabaretta alternated effectively with Galea in the centre and was rewarded when netting an excellent flick for an 8-6 lead.
With time running out and the Turks squandering a vital man-up, the Maltese tried to administer their lead before they conceded a goal 24 seconds from time.
By then it was too late for the visitors as the crowd started cheering the locals more vociferously for a truly brave performance.
Afric's squad leaves the island on Sunday, for their last match, away at bottom-placed Poland on Friday.
Malta: A. Borg Cole, N. Lanzon, J. Gabaretta 1, P. Privitera, T. Sullivan, J. Soler, S. Camilleri 3, J. Camilleri, C. Debono, K. Galea 1, A. Bianchi 1, M. Stellini 2, R. Coleiro.
Turkey: A. Sezer, N. Sonmez, R. Yakimovic 1, O. Okman 1, A. Yilmaz 1, E. Coskun, S. Hakyemez, Y. Hantal, A. Yegin, A. Sonmez, H. Beshardesler 2, A. Cagatay 2, T. Guveli.
Referees: M. Kourecas (Greece), J. Cisneros (Spain).