Dominant Reds take Sliema by storm
by Alex Vella
Game 1
Neptunes 11 – 
Sliema 6
(1-2, 4-2, 4-2, 2-0)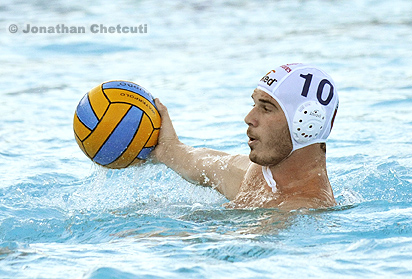 A perky Neptunes Emirates stepped into the driving seat from the second session onwards to take Sliema by storm and thus obtain a valuable headstart in the best-out-of-five series for this year's league title.
This was a sound performance by the champions, backed by maturity, resilience and not a little amount of skill. Sliema had no answer to their opponents' resolute play even if the Reds could only score once from eight man-up sets, with the Blues not faring much better when netting two from as many occasions.
Still it's a long way to go and anything can happen which could spark off another epic series of matches to determine to 2012 champions.
Sliema had a flying start as they took a 2-0 lead over an edgy Neptunes who were otherwise thwarted by an unyielding Blues rearguard who only succumbed to an Alexandar Ciric goal in the dying seconds after John Soler and Jerome Gabaretta had scored for the Blues.
It was generally tight man-marking, but none too suffocating as double cover on the respective centres gave the outside players some space for a pot at goal.
With the Reds missing five successive man-up sets and on one occasion three open chances, and the Blues also messing up most of their chances when netting one from five, it was a tale of frittered opportunities with Neptunes chasing their opponents as Tamas Molnar netted twice and Ciric, once, it was left to captain Niki Lanzon who put Neptunes in front for the first time with a goal that just beat the buzzer and the faltering Istvan Gergely for a 5-4 Reds' lead at the half way stage.
The Balluta team might have been galvanised by that snap goal as they generally bossed the third quarter, looking always the sharper team.
Their goals, at this stage came from the smart Sean Gravina, Lanzon and another two from Molnar.
James Falzon threw a lifeline when reducing the deficit to 9-6 with the last session left.
Late in the third session Michele Stellini was out on fouls with Neptunes possibly missing the valuable services of a left-hander.
But so superior were they now that they hardly felt this handicap. Neptunes had restricted their opponents to distant shooting as Serbian Ciric marshalled his defence superbly in front of a sound Ian Bugeja in goal.
Two more conversions from the Reds, a second from Gravina after good work by Clint Mercieca, and the last from the usual scorer Steve Camilleri sealed a merited win for the Reds.
Neptunes: I. Bugeja, N. Lanzon 2, E. Aquilina, M. Stellini, Z. Mizzi, A. Ciric 2, S. Camilleri 1, J. Camilleri, G. Pace, S. Gravina 2, R. Sciortino, T. Molnar 4, C. Mercieca.
Sliema: I. Gergely, J. Gabaretta 1, N. Lubrano, P. Privitera 1, M. Meli, J. Soler 1, D. Paolella, J. Brownrigg, C. Debono, F. Salomon 1, J. Falzon 2, M. Spiteri Staines, R. Coleiro.
Refs: M. Dalli, L. Bianco.