Champions Neptunes win President's Cup for sixth time
Adapted from The Times report by Alex Vella
Sliema 11 – 
Neptunes -12
(2-4, 2-3, 4-4, 3-1)
Invariably supporters of both Neptunes Emirates and Sliema are bound to suffer the pangs of an odd miss in their heartbeat whenever these teams face each other.
Again it was no exception yesterday as the duel developed into another palpitating contest of the highest level. This was the sixth success for the Balluta Bay team in the President's Cup.
Neptunes seemed to be on their way to victory as they often led by three goals and sometimes four but the Blues showed no signs of giving up especially in the latter stages of the game. The Reds were, perhaps, a perkier outfit both on set-play and man-ups as well as their covering.
Neptunes netted seven on eight on numerical sets with Sliema, who had Mark Meli and John Brownrigg back in their ranks, scoring 40 per cent of their five sets.
All in all, however, it was another contest which was a credit to the game despite the odd mistakes from the players and a couple of contested decisions by the referees.
The Reds started almost like a train, taking a 2-0 lead inside the first three minutes before Sliema pulled a goal back momentarily. Neptunes converted two man-up sets on either side of a Sliema goal.
With Neptunes shooting effectively, particularly through Niki Lanzon off cross passes, and converting most of their numerical advantages, they deservedly took a 7-4 lead which they preserved until ends were changed.
Meanwhile, the Blues were being frustrated by their opponents' stifling press within the five-metre zone, while Neptunes were conducting play thanks to the good marshalling of outside players Vladimir Gojkovic, scorer of two goals, and four-goal Lanzon.
Quick goals from the Blues after the changeover provided them with a fillip before Neptunes hit back strongly to open a four-goal advantage.
However, before the session closed, further goals reduced that advantage to 11-8 for the Balluta Bay team.
Excitement brewed in the final session as Sergio Afric's team redoubled their efforts to salvage the game and their pride.
More goals from the inimitable Bogdan Rath, who also netted a poker, nearly accomplished their mission.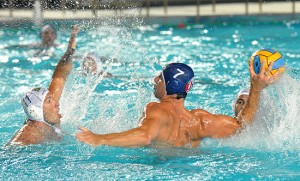 But Neptunes, for whom Jordan Camilleri was fouled out early in that last quarter, held on tightly for their first summer success of the year.
The President's Cup was presented to Neptunes captain Lanzon who was cheered by his team's band of supporters.
Sliema: R. Coleiro, J. Gabaretta 1, N. Lubrano 1, R. Fodor 2, M. Meli 1, J. Soler, D. Paolella 2, J. Brownrigg, C. Debono, P. Privitera, B. Rath 4, J. Spiteri Staines, D. Abela.
Neptunes: I. Bugeja, N. Lanzon 4, E. Aquilina, M. Stellini 1, J. Camilleri, G. Pace, S. Camilleri 3, V. Gojkovic 2, B. Buhagiar, S. Gravina, R. Sciortino, T. Molnar 2, M. Pisani.
Referees: P. Balzan, S. Licari.