Neptunes Swimmers in Berlin Meet
The Neptunes swimming squad has just returned from the Christmas Age-Group Swimming Meeting held in Berlin, Germany. The Neptunes team was composed of 40 swimmers between the age of 9 and 21 years and was under the guidance of club head-coach Gail Rizzo who was assisted by Monique Mangion and junior squad coach Keith Bartolo.
Competing against 80 other clubs coming from Denmark, Poland, Switzerland and host country Germany, the Maltese swimmers figured on numerous occasions on the podium amongst the medal winners. Personal best times were achieved in around 80% of the races entered into by the Neptunes swimmers.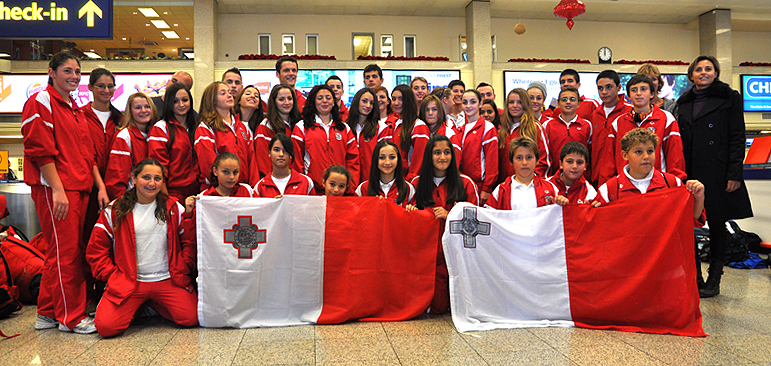 The medal winners in the female category were Amy Micallef (born 1998) who won two silver medals and one bronze medal and Mya Azzopardi (born 2002), the youngest swimmer in the squad, who won one gold and one silver medal. Mya also place second in the overall female classification for swimmers born 2002.
In the male category, Julian Harding (born 1996) won two silver medals, Michael Umnov (born 1997) won one silver medal whilst Neil Muscat (born 1998) won five silver medals and five bronze medals. Neil won a medal in every race he competed in.
New Malta age-group long-course swimming records were also not lacking as one can see from the following list:
Amy Micallef – Girls Group C
200m Individual Medley new time of 2:33.96
Julian Harding – Boys Group C
50m Breaststroke 32.02; 50m Butterfly 27.54; 100m Butterfly 1:00.37; 200m Butterfly 2:20.59 and 200m Individual Medley 2:22.00
Neil Muscat – Boys Group B
50m Freestyle 27.32; 100m Freestyle 59.88; 200m Freestyle 2:09.54; 100m Backstroke 1:06.51; 50m Breaststroke 34.31; 200m Breaststroke 2:45.56; 50m Butterfly 29.22; 100m Butterfly 1:07.03.
Julian Harding broke records in all five races that he competed, whilst Neil Muscat broke an impressive eight records out of ten races he competed in during this weekend.
The squad now resumes training in preparation for the next major swimming competition in Malta after Easter.