Neptunes dominate 2014 National Swimming Championships
4 National Records & 4 Age-Group Records for our swimmers
by Alex Vella – Times of Malta
The 2014 National Championships held at Tal-Qroqq complex between last Friday and Sunday produced several encouraging performances, with the numerous spectators enjoying five sessions of keen races.
The highlights of the champion-ships, this year sponsored by Klikk Computer Store and assisted by Paul Target for office equipment and Edwards Sports Shop, were five national and four age-group records in which seven boys and one girl were involved.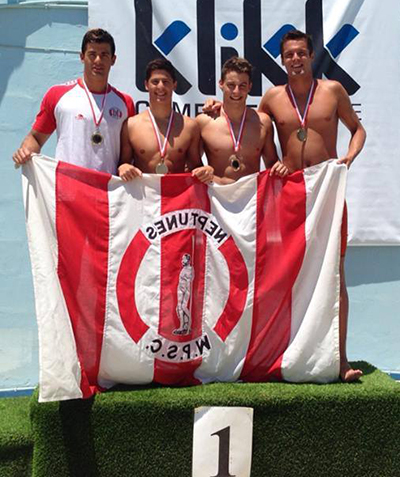 The results have, once again, underlined that the sport has continued to maintain the upward trend.
There were over 200 entries from seven clubs, with the established senior and age-group swimmers providing close competition.
The depth of strength of Neptunes WPSC once more featured in these championships as they won all relay events and several top medal placings.
However, the significant progress made by Sirens ASC, Sliema ASC, Inspire and SW Elite, especially in the junior categories, also stood out.
Andrew Chetcuti (Sirens), Edward Caruana Dingli, Julian Harding, Neil Muscat, Raoul Stafrace, Matthew Zammit and Nicola Muscat (all Neptunes) made their mark when establishing new national limits in relays and individual events, while 12-year-old Kyle Buhagiar, also of Neptunes WPSC, set an age-group record.
Another swimmer of Russian nationality, Michael Umnov, who was eligible to swim in the recent FISEC Games and also set up FISEC Games records, impressed in the 200 metres IM when he recorded 2:09.84, following the 2:09.69 he did in April.
Picture shows swimmers ahead of a race during the championships.
National coach Andy Colbourn and the other club coaches must have been satisfied with the input of the swimmers at the end of an arduous season as several peaks and personal bests were reached.
"The competition was fierce and produced some exhilarating races through all age groups, with many personal bests, age-group and national records being set," Colbourn said.
"The upsurge in popularity and improvement is thanks in no small way to all the clubs and the professional and fun environment they offer. This has attracted youngsters to become swimmers and be involved in this great sport.
"A mention must also go to the ASA swimming technical committee members, marshals, referees, time-keepers and other officials and staff who selflessly give their time for free in order for swimming to continue to develop and grow."
Swimming will now go into the summer recess, with the start of a new cycle being scheduled for autumn.
New records
National
50 free (men): Andrew Chetcuti (Sirens) 23.46.
50 'fly (women): Nicola Muscat (Neptunes) 28.77.
4×50 free (men): R. Stafrace, N. Muscat, M. Zammit, E. Caruana Dingli (Neptunes) 1:36.18.
4×50 medley (men): N. Muscat, J. Harding, M. Zammit, R. Stafrace (Neptunes) 1:45.72.
4×100 medley (men): N. Muscat, J. Harding, M. Zammit, R. Stafrace (Neptunes) 3:58.39.
Age-group
100 free (Group B boys): K. Buhagiar (Neptunes) 58.83.
200 free (Group D boys): N. Muscat (Neptunes) 2:00.05.
100 back (Group D boys): N. Muscat 1:00.38.
50 back (Group D boys): N. Muscat 27.62.