More national and age group records broken at championships
Agius and Pace honoured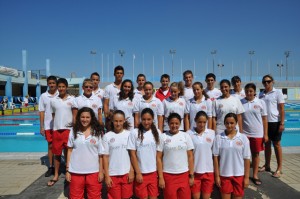 Yet another swimming event, this time the National Championships held last weekend, produced more local records.
Nine new limits were set and personal best times were recorded as several swimmers from different clubs tried to give it their all over the five sessions held at Tal-Qroqq.
Four new marks were set at national level, two by Neptunes in team events and the others by Nicola Muscat.
The quartet of Matthew Zammit, Mark Sammut, Edward Caruana Dingli and Andrew Chetcuti posted a time of 1:38.83 in the 4×50 freestyle relay while that of Sammut, Andrea M. Agius, Chetcuti and Caruana Dingli clipped 2.25 seconds off the old limit when recording 1:51.84 in the one-lap medley relay.
Muscat improved Nicole Cremona's previous mark of 31.81 (set in April 2009) when finishing the 50m back in 31.74 seconds and the 50 'fly in 29.26 just beating her previous best set in December of 29.27.
The age-group records were registered by Neil Muscat (B), 28.03 in the 50 free, improving on his own previous limit.
The same swimmer also bettered his old best in 50m back by 0.55 seconds when swimming the distance in 31.65.
Francesca Falzon (A) did 32.82 in the 50m freestyle, beating the 22 year-old record held by Gail Rizzo of 33.68, and Matthew Galea (Sliema) sliced 0.23 seconds off his previous Group C limit when registering 30.28 in the one-lap backstroke race.
Again in Group C, Julian Harding clocked 2:23.00 in the 200 IM to improve his own time set in Sicily in May of 2:23.41.
The next commitments for Maltese swimmers are limited to national representation.
Later this month, Andrea Agius, Andrew Chetcuti and Nikki Muscat will fly Malta's colours at the World Championships in China while Mark Sammut, Andrea M. Agius and, again, Nikki Muscat will represent the country in the Youth Commonwealth Championships at the Isle of Man in September.
Meanwhile, two swimmers who performed with distinction over the last years were given due recognition by the ASA upon their retirement from the national team.
Neil Agius and Talisa Pace rep-resented Malta on the European and world stage, the former uninterruptedly since 2001 and Pace since some years later.
Agius, now 24, started swimming at the age of six and during his career he broke national records in the 200, 400, 800 and 1,500 freestyle, the last two still standing, the 100 'fly, 50 back and all relay records, some of which he still figures in.
Pace, 18, was a former record-holder in the 50, 100 and 200 freestyle and still holds joint national limits in all five relay events.
Source: Timesofmalta.com