Age-group records for Neptunes youngsters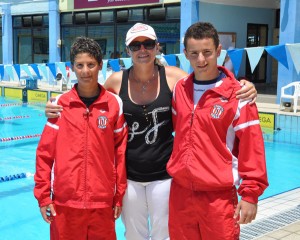 Neptunes swimmers Neil Muscat and Julian Harding, both swimming under the guidance of Neptunes Swimming Coach Gail Rizzo, registered new age-group records during swimming time trials held today at the National Pool as follows:
Age Group B – Neil Muscat clocked 2.50.84 in the 200m breast to erase the previous time of 2.52.98.
Age Group C- Julian Harding clocked 32.22 in the 50m breast to erase the previous time of 32.66.
TRAINING CAMP AND SWIMMING COMPETITION IN LIGNANO SABBIADORO (ITALY) FOR ASA NATIONAL SWIMMING TEAM
The ASA National Swimming Team made up of Neil Agius, Andrea Agius, Edward Caruana Dingli, Davina Mangion, Nicola Muscat and Talisa Pace returned Malta from a training camp and participation in swimming competitions held in Lignano Sabbiadoro Italy.
ASA National Swimming Coach Andy Colbourn, who accompanied the team, commented that this training camp was a good preparation for the forthcoming Games of Small States being held in Leichtenstein next month.
Medals won by National Team Swimmers during the Lignano competitions:
Nicky Muscat : Gold 50m Free, 100m Free, 200m Free, 100m Back
Davina Mangion: Gold , 400m Free and 200m Fly, Silver 100m Fly and 200m Free
Talisa Pace: Bronze in 50m Free, 100m Free and 200m Free
Neil Agius: Gold 400m Free (PB) and 200m Fly, Silver 200m Free and Bronze in 50m Free
Andrea Agius: Gold 200m IM (PB) and, 100m Breast, Slver 200m Breast, Bronze in 100m Fly
Edward Caruana Dingli: Silver 200m Free and 400m Free and Bronze in 50m Free